Ukraine girls really knock me out
Send lawyers guns and money
the shit has hit the fan
-Warren Zevon
Greetings
But perhaps it makes sense to stand back and look at the bigger picture. Since 2008, there have been a number of revolts, coups, and counter coups. Perhaps Ukraine is an example of a more general issue. One that is shared by Venezuala? How about
Yemen
?
Does it have any relationship to the rising cost of food? or fuel?
------
Global riot epidemic due to demise of cheap fossil fuels
From South America to South Asia, a new age of unrest is in full swing as industrial civilisation transitions to post-carbon reality.
l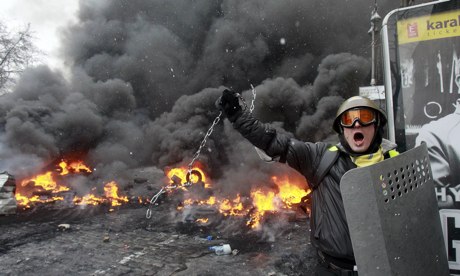 A protester in Ukraine swings a metal chain during clashes - a taste of things to come? Photograph: Gleb Garanich/Reuters
If anyone had hoped that the Arab Spring and Occupy protests a few years back were one-off episodes that would soon give way to more stability, they have another thing coming. The hope was that ongoing economic recovery would return to pre-crash levels of growth, alleviating the grievances fueling the fires of civil unrest, stoked by years of recession.
Hunger games
The pattern is clear. Food price spikes in 2008 coincided with the eruption of social unrest in Tunisia, Egypt, Yemen, Somalia, Cameroon, Mozambique, Sudan, Haiti, and India, among others.
In 2011, the price spikes preceded social unrest across the Middle East and North Africa - Egypt, Syria, Iraq, Oman, Saudi Arabia, Bahrain, Libya, Uganda, Mauritania, Algeria, and so on.
"Our analysis says that 210 on the FAO index is the boiling point and we have been hovering there for the past 18 months... In some of the cases the link is more explicit, in others, given that we are at the boiling point, anything will trigger unrest."
But Bar-Yam's analysis of the causes of the global food crisis don't go deep enough - he focuses on the impact of farmland being used for biofuels, and excessive financial speculation on food commodities. But these factors barely scratch the surface.
It's a gas
The recent cases illustrate not just an explicit link between civil unrest and an increasingly volatile global food system, but also the root of this problem in the increasing unsustainability of our chronic civilisational addiction to fossil fuels.
Currently, about 80% of Ukraine's oil, and 80% of its gas, is imported from Russia. But over half of Ukraine's energy consumption is sustained by gas. Russian natural gas prices have nearly quadrupled since 2004. The rocketing energy prices underpin the inflation that is driving excruciating poverty rates for average Ukranians, exacerbating social, ethnic, political and class divisions.
"Socialism" or Soc-oil-ism?
In Venezuela, the story is familiar. Previously, the Oil and Gas Journal reported the country's oil reserves were 99.4 billion barrels. As of 2011, this was revised upwards to a mammoth 211 billion barrels of proven oil reserves, and more recently by the US Geological Survey to a whopping 513 billion barrels. The massive boost came from the discovery of reserves of extra heavy oil in the Orinoco belt.
Looming pandemic?
The epidemic of global riots is symptomatic of global system failure - a civilisational form that has outlasted its usefulness. We need a new paradigm.
It's time that governments, corporations and the public alike woke up to the fact that we are fast entering a new post-carbon era, and that the quicker we adapt to it, the far better our chances of successfully redefining a new form of civilisation - a new form of prosperity - that is capable of living in harmony with the Earth system.
But if we continue to make like ostriches, we'll only have ourselves to blame when the epidemic becomes a pandemic at our doorsteps.