Arctic Ice Death Spiral
Greetings
Looks like Arctic ice is going away. Is the message sinking in?
Pew poll
" 67 percent of Americans said that there is "solid evidence" that average global temperatures have been rising in recent decades, signaling a gain of four points since last year and 10 points since 2009. Yet only 42 percent say this warming is "mostly caused by human activity," according to Pew.

"



How does it rank?
"In his inaugural address, President Obama spoke of the need to deal with climate change in his second term, but the American public routinely ranks dealing with global warming low on its list of priorities for the president and Congress. This year, it ranks at the bottom of the 21 tested.

In the Pew Research Center's

annual policy priorities survey

, released Jan. 24, just 28% say dealing with global warming is a top priority for the president and Congress this year, little changed from the 30% that said this when Obama first took office in 2009. Nearly four-in-ten Democrats say global warming should be a top priority, compared with just 13% of Republicans. About three-in-ten independents (31%) say this as well. "
Death Spiral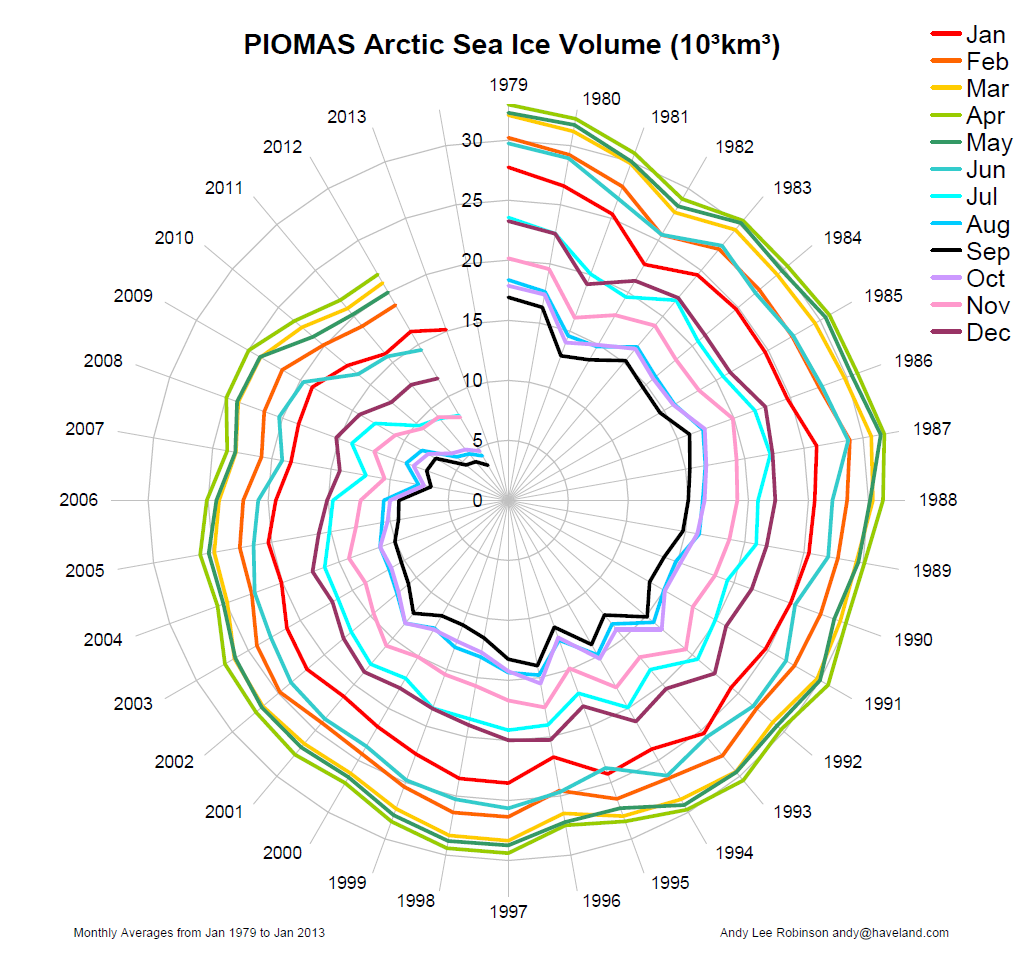 http://thinkprogress.org/climate/2013/02/14/1594211/death-spiral-bombshell-cryosat-2-confirms-arctic-sea-ice-volume-has-collapsed/?mobile=wt
Arctic sea ice volume has declined by 36 per cent in the autumn and 9 per cent in the winter between 2003 and 2012, a UK-led team of scientists has discovered….

The findings confirm the continuing decline in Arctic sea-ice volume simulated by the Pan-Arctic Ice-Ocean Modelling & Assimilation System (PIOMAS), which estimates the volume of Arctic sea ice and had been checked using earlier submarine, mooring, and satellite observations until 2008.
This should be the story of the day, week, month, year, and decade. As NERC notes, sea ice volume is "a much more accurate indicator of the changes taking place in the Arctic."
"Other people had argued that 75 to 80 percent ice volume loss was too aggressive. What this new paper shows is that our ice loss estimates may have been too conservative, and that the recent decline is possibly more rapid."
… Researchers used new data from the European Space Agency's CryoSat-2 satellite spanning 2010 to 2012, and data from NASA's ICESat satellite from 2003 to 2008 to estimate the volume of sea ice in the Arctic.

They found that from 2003 to 2008, autumn volumes of ice averaged 11,900 km3. But from 2010 to 2012, the average volume had dropped to 7,600 km3 - a decline of 4,300 km3. The average ice volume in the winter from 2003 to 2008 was 16,300 km3, dropping to 14,800 km3 between 2010 and 2012 – a difference of 1,500 km3.

"The data reveals that thick sea ice has disappeared from a region to the north of Greenland, the Canadian Archipelago, and to the northeast of Svalbard," says Dr Katharine Giles, a NERC-funded research fellow at the Centre for Polar Observation & Modelling (CPOM) at UCL (University College London), who co-authored the report, published online in Geophysical Research Letters….

Other satellites have already shown drops in the area covered by Arctic sea ice as the climate has warmed. Indeed, sea-ice extent reached a record minimum in September 2012. But CryoSat-2, launched in April 2010, differs in that it lets scientists estimate the volume of sea ice — a much more accurate indicator of the changes taking place in the Arctic.

"While two years of CryoSat-2 data aren't indicative of a long-term change, the lower ice thickness and volume in February and March 2012, compared with same period in 2011, may have contributed to the record minimum ice extent during the 2012 autumn," says Professor Christian Haas of York University, Canada Research Chair for Arctic Sea Ice Geophysics, co-author of the study and coordinator of the international CryoSat sea ice validation activities.

CryoSat-2 measures ice volume using a high-resolution synthetic aperture radar altimeter, which fires pulses of microwave energy down towards the ice. The energy bounces off both the top of sections of ice and the water in the cracks in between. The difference in height between these two surfaces let scientists calculate the volume of the ice cover.

The findings are the result of a huge international collaboration between teams from UCL, the European Space Agency, the Jet Propulsion Laboratory, the University of Washington, York University, Alfred Wegener Institute for Polar & Marine Research, Woods Hole Oceanographic Institution, Morgan State University and the University of Maryland.

The team confirmed CryoSat-2 estimates of ice volume using measurements from three independent sources – aircraft, moorings, and NASA's Operation IceBridge.
It is almost certainly too late to save the Arctic's summer sea ice from near-total destruction. Let's hope the same isn't true for the biosphere. The time to act is now if we don't want to betray our children and future generations.
Related Posts: